Time is a funny thing. Sometimes she moves swift as the wind; where days, weeks, months and years fly by. And other times, other times she stands quite still. A minute can feel like hours. A day can feel like weeks.
Exactly one year ago today, Jake and I embarked on a new journey, one that completely changed us. It was the beginning of our Te Araroa adventure. So it seems fitting that today, the dawn of the new year, is the perfect time to share it with you. I mean, the main [uhem ONLY] reason that the Te Araroa showed up on my radar was because of the movies The Lord of the Rings and The Hobbit.
To experience such enchanting worlds imagined by J.R.R. Tolkien and brought to life by Peter Jackson, is pretty fantastic (especially for us total LOTR/Hobbit nerds). There's one character in Tolkien's novels whose impact is paramount to the coming-to-life of these stories. That role is "Middle Earth", played by the small, innocent-looking country floating deep in the southern-hemisphere; New Zealand.
Jake and I were beyond lucky to experience the magic of New Zealand; both on and off the Te Araroa. We ventured across such vast beautiful lands with all of their might, perfection and peril (minus the trolls, orcs, elves, ents, etc). So often we would stop in our tracks to be blown away by our surroundings, feeling as if we were just immersed in the real life version of LOTR (Lord of the Rings) and/or The Hobbit movies.
We didn't do much research in the beginning of our TA-jaunt. Mostly we figured the path itself would hit many of the filming locations on its own. I mean really, how many could there be? Too many to count as it turns out! Early in our walk we met some true LOTR fans (ALSO hiking the TA), who showed us the custom map that they put together, marking each and every film-location with a red dot. The thing was saturated in red!
Don't be fooled by her size, New Zealand is massive and full of hidden gems that native, Peter Jackson, manages to uncover in his films. We hit up those sites that fell along our path and made sure to check out the more significant locations that required a detour.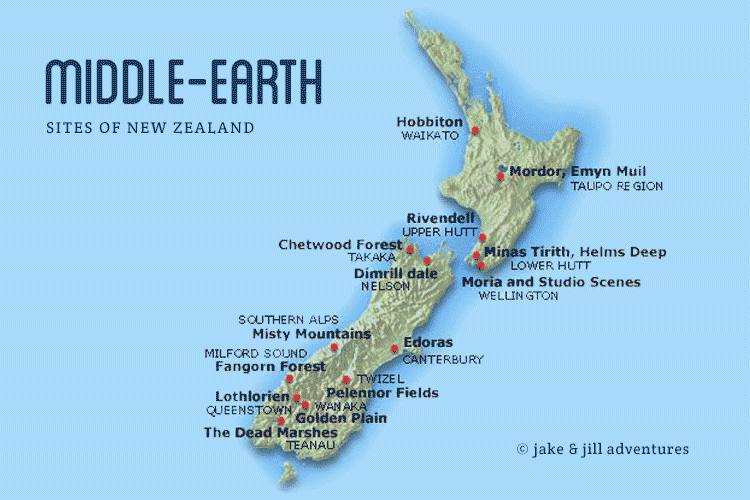 Just like Frodo, Sam and the Fellowship, Jake and I walked our very own road to Mordor. Of course, our version is vastly out of order from the films. But, our journey began at the very southern tip of 'Middle Earth' and continued on all the way up to the north island. I'll touch on a few highlights from our Te Araroa journey (though many of those will be covered in depth in our book, soon to be released later this year) and a bit more on the significant sites like Mordor and Hobbitton.
South Island Highlights
Milford Sound
(Misty Mountains)
The Southern Alps represents the Misty Mountains as seen in
The Hobbit
and
LOTR
. Jake and I shared in a similar path, often deep within the mountain range throughout the TA.
Te Anau
(The Dead Marshes)
In
LOTR
, Frodo, Sam and Gollum venture across dangerous marshlands to get to Mordor. While officially the dead marshes were filmed in this one location, Jake and I often found ourselves fording through this exact type of terrain multiple times throughout the southern island's TA trail. The marshes are often separated by small expanse of beech forest surrounded by mountains.
Mavora Lakes
(Nen Hithoel, Fangorn Forest)
The Mavora Lakes were filmed for many different scenes in
LOTR
. The TA trail cuts right through them all, yay for us! Some memorable scenes include Merry and Pippin's escape from the orcs and hide at the edge of Fangorn Forest and the final moments in
The Fellowship of the Ring
where Frodo jumps in a canoe (and Sam follows, nearly drowns).
Pass Burn
(Misty Mountains)
Near Mavora Lakes, we ventured on a track that is the same as that of Bilbo and his dwarf-crew, heading to The Lonely Mountain.
Paradise | Glenorchy
(Fangorn Forest, Rivendell, Isengard)
Glenorchy is a small village located on the north end of Lake Wakatipu (the longest lake). Jake and I circumvented this lake, which took us past Paradise, from which Isengard and the inner-Fangorn Forest reside. Fanghorn Forest is actually a road, Takaro Road, very close to Te Anau.
Southern Lakes | Queenstown
(Journey to Isengard, Lothlorien)
From Glenorchy, at the northern end of Lake Wakatipu, you can see the north-western slopes of Mount Earnslaw, which featured in the opening sequence of The Two Towers. We were lucky to visit Glenorchy after our first very long trek along the Greenstone track, just before heading into Queenstown. There is a beech forest on the road to Paradise (another village) that is Lothlorien.
Along the route, we spotted so many things that piqued our LOTR mindset, like this license plate we spotted in our ventures or this misty, gloomy forest that was so reminiscent of Mirkwood.
Twizel
(Pelennor Fields)
Near Twizel in the Mackenzie Country, Peter Jackson filmed the epic battle of the Pelennor Fields, where thousands of orcs bred by Sauron clashed with the men of Gondor and Rohan. Its crazy how these grassy fields stretch so far and wide.
Rangitata River & Mt. Sunday
(Edoras)
Nestled in the high country sits Mount Sunday – a sheer-sided hill that was the set for Edoras, the main city of the Rohan people. There is no sign of the set, but the location is absolutely stunning. We walked passed it after crossing the treacherous Rangitata River. It is a stunning location nestled at the base of a whole stream of mountain ranges.
Lake Pukaki
(Lake Town)
Lake Pukaki is the setting for Lake Town, exhibited in
The Hobbit: Desolation of Smaug
. While there is no actual town, the lake is extraordinarily blue and set in a stunning backdrop of Mt. Cook's craggy, snow-covered peak. We hiked the circumference of the lake and enjoyed one of the most beautiful campsites across from the snowy peaks (and a beautiful star-filled sky).
North Island Highlights
Upon completing the south island of the Te Araroa, we were completely ecstatic for the opportunity to check out some of the LOTR sites in the north. We arrived in the town of Wellington by boat, which is also the hub of many filming locations and studio exhibits, AND happens to be Peter Jackson's home. One of our TA family (tramily) lives in Wellington and showed us exactly where he lives (up on the hillside when you enter the harbor). Its pretty darn cool to see by sea.
Our time was limited once we arrived on the North island, so we made it our mission to check out those most significant sites; Mordor, Mt. Doom and Hobbiton. Thankfully our new BFF's from the UK were spearheading our adventures and just as motivated to visit these locations as well!
Tongariro National Park
(Mordor/Emyn Muil)
Mt. Ngauruhoe
(Mt. Doom)

First up, the World Heritage Site known as Tongariro Alpine Crossing (Mordor / Emyn Muil) and Mt. Ngauruhoe (aka Mt. Doom).
It was a cold and frosty morning in late April 2017, when we made our way to Tongariro National Park. New Zealand's oldest national park and World Heritage site is both rich in cultural identity, a spiritual site for the indigenous Maori, and boasts awe-inspiring scenery that makes it a world-renown trek.
Jake and I were accompanied by our UK BFF's, Adam and Abi, whom we met while hiking the TA. Adam and Abi had a car from which we were getting around. It was a 30 minute drive from our campground to the park entrance. Jake and I piled in the back with all of our gear. It was a bit of a tight squeeze but we were just so happy to not have to drive on the opposite side of the road or deal with anymore navigation for awhile.
We pulled into the parking lot, which was already crowded with tourist busses and individual cars. It reminded me of Yellowstone National Park during peak summer hours with so many visitors. But then, I'm not at all surprised.
Adam and Abi are hard-core athlete, marathon runners. They planned to run the 19km track, figuring they would finish around lunch. This is crazy fast for any normal person, these two are seriously out of this world fit. And even though Jake and I are coming in with our super-TA-fitness, we know we could never do it this fast. Plus we wanted to add in the hike to the summit of Mt. Ngauruhoe (Mt. Doom), adding about 3km and 1000 meters of climbing onto the 19km trek. We figured we would be done by 4PM and planned to meet our friends at the parking lot.
Our goal was simple; to hike as fast as possible to try to fit in our summit attempt. That leaves us about 7 hours, the sign says that it could take 9-10 to do the trail sans the volcano summit. Jake and I knew we would have to deal with a lot of people, which could prove challenging, but we were fit and ready and raring to go.
The weather started off pretty clear for New Zealand, with a few clouds in the distance. We set off along the track, which was wide enough to fit 6 or 7 people across and relatively flat. It was here that we said our farewell to Adam and Abi as they bolted by us and every other person in their path. Soon the trail opened onto a sort of boardwalk, pier, built above the black lava fields. Its hard to deny that this is the site of Mordor and Emyn Muil! You could see Mt. Ngauruhoe in the distance. Our destination awaits!
The sun was still low in the sky and absolutely blinding as we wound our way through tourists and up the track. I was torn between taking photos and the instinct to hustle and pass people where convenient. It wasn't easy to do this as the trail grew narrow and steep. It was really annoying dealing with the massive crowd of slow walkers. It goes against our norm of the last 4-months of long back-country walking, mostly all alone. It was a shock how crowded it was already. At least the walk is pretty darn easy [for us].
As soon as this thought crossed my mind, things changed. We climbed more steep, black, rocky terrain and I struggled with my pace, concerned more with passing people than finding a rhythm. Breathing so hard at times I felt like I couldn't catch my breath, which forced me to stop (and take a few more photos). Eventually, Jake and I found our cruise control mode and set off.
At the 6km mark was a sign posted to warn people of the dangers that lay ahead; the difficult, steep and exposed terrain. For us seasoned TA hikers, we had complete confidence and pushed on. I think we kept a pace of about 5km/hr, a bit faster than when we'd hike the trail. Our packs were so much lighter it was kind of amazing how easy this is. At the top of a ridge we spotted the sign pointing us towards Mt. Doom. The summit is only 3km, but climbs 1000 meters.
From here the crowds all but disappeared. Now this is more like it! The trail was not nearly as well-defined, but the objective lay right in front of us. It didn't waste any time in growing steep and difficult from the start. Black lava-rock steps wound their way up transitioning into loose, precarious boulder fields, slick, steep rocks, mud and clay, then sand and scree. It made each step feel like 10. This is more like what we're used to, and it was hard to move fast. We found ourselves amongst several others who were all attempting the climb.
I noticed how many of the other people seemed to be ill-equipped. No packs, no water, no poles. Just shorts and T-shirts, maybe a small bottle on their hip. I can only hope they know what they're doing, and that the weather holds.
Progress slowed and it started to feel like a traffic jam the further we climbed. Jake was well ahead of me as I stopped often to snap photos or shoot some video. But I did manage to pass a few people. The further I climbed, the more sketchy and loose the ground beneath. And with no obvious path people were climbing all around, often kicking up loose rocks under their feet. God I wish I had a climbing helmet!
The ground beneath me kept changing colors from onyx to burnt orange and deep red. At times it felt more like a vertical rock climb than a hike and I had to use all fours to make upward progress, again feeling completely uneasy what with all the inexperienced people around.
Then out of nowhere a huge thick cloud swooped in and perched itself on the summit of our volcano. No more vista views to see, in fact I could barely see a few feet in any direction. The wind kicked up significantly and the temperature fell dramatically to below zero. It happened so suddenly I couldn't prepare myself and was immediately frozen to my core. Thankfully I was nearly at the top, only apparent by the gradual flattening of the terrain and the now snow-covered ground.
Jake was waiting for me at the edge of the cone, donning all of his clothes. I stopped and put on everything I had as well, which wasn't much but still better then nothing; My foul weather pants and rain jacket were a relief, though not amazing, much better than nothing at all.
I couldn't even tell that we made it to the top because I couldn't see anything. We could hear people slightly above us and recognized that they were just on the other side of the cone. We could choose to walk around the huge crater of the volcano or walk straight into it. We chose the latter and headed down into the center. It was the strangest thing. First of all, the ground was covered in snow and black lava rocks. But even with that, the rocks were warm to the touch and in some areas so warm the snow was gone. It was pretty darn cool to be in the heart of Mt. Doom. If only this cloud would move so we could see the views from here!
The wind couldn't penetrate us so we got a nice reprieve. But there wasn't much to see so we didn't linger long and instead made our way back out of the crater. As soon as we reached the top the freezing wind smacked us in the face.
On that note, we went down.
Here's where it got interesting. Jake went ahead and I followed very slowly, unsteady on my feet. The rocks were not at all stable and the snow didn't help matters. The tread on the bottom of my shoes is completely worn away and I'm just terrible at going down the steep stuff. I did my best to keep up and follow Jake's path but lost him quickly in the fog.
Dang. I stopped to wait as a few people passed by, criss-crossing my path with their own. It was slow going, at this pace I'll make it down in an hour. UGH. I could see Jake's bright orange jacket way down below me now. He was much further to my right too, moving at a break-neck speed. How does he do that?
I took my time, snapping a few photos where I could, then decided to pack away my camera and focus on the descent. I traversed to the right, slowly wending my way down the vertical rocks. Thats when I heard a cry from above;
ROCK!!!!!
I barely glanced up to see a HUGE boulder pummeling down the mountain RIGHT IN MY PATH. Climbing instinct kicked in and I made a wild dive to my left, under an overhanging bit of rock face. My hand managed to grasp a positive hold, keeping myself from sliding down. At that moment, I glanced back to see the massive boulder fly past the place where I just stood, continuing its ground-splitting plummet down. In a panic, I looked down to make sure that no one else was in its path. I noticed the orange of Jake's coat way below. The boulder missed him by about 20 meters but fell along the path of 2 other's who also had to dive out of the way like me.
It all happened in seconds and with that I was absolutely ready to be off this mountain…volcano…whatever. There are far too many inexperienced people up here. I assumed the rock fall was from a careless hiker.
A German guy was standing near where I dove and made a comment about how dangerous it is up here then made his way far to my right where he glissaded easily down the mountain. Thats it! There's loose scree more like sand than rock over to the right. I followed his lead and realized how much easier it was to go down. It was like skiing in boots. But it was so effective, so fast. I couldn't believe how easy this was! I was having a blast as I passed people easily now, using my poles to balance just as I would if I were skiing.
15 minutes later I was down! I couldn't believe it and Jake was at the bottom chatting with the German guy who passed me. Apparently he found out that someone took a very bad fall at the top and kicked up a huge boulder in his fall. He said that this is actually a common occurrence and they might close this part of the trail completely in the near future what with all the accidents.
Ahhh well, we made it down. I still couldn't believe how fast that went. We took a short break behind some large boulders to have lunch (wraps, sausage and leftover berry smoothie drink). It was a great break and nice to get out of the cold wind. The clouds have come in now and the weather doesn't look so good. Its really windy and really cold even down here.
With 13km to go, we pushed ahead along the Tongariro track. Crowds thinned out a bit. The terrain flattened out a lot and then climbed a few craggy rock features. I could imagine all of it in LOTR.
I took loads of photos and Jake kept getting pissed at me for slowing our pace. The weather was growing worse as we hiked to another summit off a plateau and down a scree-sand descent (much like the one we just flew down). I passed so many people it felt so cool to be a badass for a change. The emerald lakes below shone brilliant bright green and blue sulphuric water. It was so nice and warm down there too, a brief reprieve from the cold.
We didn't linger and pushed on past the pools, continuing along the tussock-fields and mountainous landscape. We reached our "summit" of 2300 meters and then began the gradual descent. It was very easy for us, but still a long way to go. The entire descent was lined with a rubber-mat, I can't imagine how long that took to lay out. But it made it easy to move quickly and not slip.
The crowds picked up some and Jake and I realized we were nearly at 4PM deadline, with 4km to go. So we ran. We passed everyone in our sights and many thought we were nuts as the ground changed from an easy path to a muddy forest. But this muddy forest is nothing, we've hiked so many muddy forests we felt pretty good and actually excited at how fast we could move.
The forest went on far too long, or so it seemed. But then all of a sudden, bam. Carpark!
Abi was there waiting with a table and chairs setup in the parking lot. Adam was off giving some hitchhikers a ride to their car (on the other end of the park) and so we fixed ourselves a snack and regaled our adventures with one another until Adam came to pick us up 20 minutes later. It was one heck of an adventure!
Mt. Ruapehu
(The Lonely Mountain)

As seen in
The Hobbit
– This is the Lonely Mountain from afar.
Matamata
(Hobbiton, The Shire, Bag End)

Lastly, the Hobbiton movie set
This was one we all anticipated from the beginning. I went all out and made a Hobbiton playlist on my iPod for the occasion. Seriously how nerdy can ya get? We were all so excited about our visit, we were up early, enjoyed fried eggs, muesli and yogurt for breakfast and then piled in the car with Adam and Abi to make way to Matamata.
It was only 30 minutes and the entire way we listened to our soundtracks. It put us in the perfect mindset for our upcoming adventure. Its becoming noticeably reminiscent of The Shire, with its long green rolling hills and sheep farms.
The Hobbiton movie set is officially built on the Alexander farmlands. The family owns 1250 acres here and this is where Peter Jackson decided to build The Shire. The set is the same that was used in various scenes in both The Hobbit and LOTR.
We were bursting with excitement when we parked and all of our cameras were out and clicking like mad from the word go. Abi was most excited. Jake was a good sport and Adam we learned is a total LOTR nerd too!
The tour lasts about 2 hours, some of which is spent at the Green Dragon Inn, which is actually seen in the films, and where you can drink an authentic Hobbit brew or cider!
We hopped on the bus and drove into the set, which is nestled beyond the hills of the farm. It looked exactly like the movies which is kind of amazing and awesome to see!
Our group consisted of 40 people, but they have constant tours throughout a day, so there were already loads of people here. But its spaced out enough to get some individual time for photos (not enough time for me but that's okay!)
It was hard not to go crazy with photography since there are so many cool things to see. The tour guide walked us through the Shire, explaining how the different sets were built and for what purpose or what scenes. This set was the official one built for The Hobbit films and a re-creation of the LOTR ones, since that set was taken down years prior.
One interesting fact is that they had to build several different size hobbit holes for various scales and proportions to the characters. For example, hobbit characters had been filmed with the largest hobbit holes to make them look normal size. But Gandalf the Gray and other human characters required a smaller hobbit hole to make him look larger. We learned how they had to consider size and scale along with hundreds of other details to create the illusion of the world. Peter Jackson is clearly a perfectionist.
There is a tree that lives atop of Bag End (Bilbo's and Frodo's home). The tree was a hand built oak tree with thousands of tiny leaves and branch details to be made to look real. But this tree is built for The Hobbit, which occurred 60 years earlier than the LOTR films (in the story), so they made the tree a 60-year younger version of itself in real life. Peter Jackson didn't like the way the leaves looked and repainted them (think 100,000's of leaves) to look more real, just for a few seconds on the film. How amazing!
The big party tree and The Green Dragon (where Sam and Rosie meet at the end of the films) and tons of other scenic sets could be viewed.
We stopped in the green dragon where Jake and Adam tried Hobbit-brew and Abi and I tried the cider. Holy moly it was so good (and I got a little buzzed off of it too).
Even inside The Green Dragon were so many beautiful details. I only wish we had more time to enjoy it, but they have to keep the tours moving and crowds under control. It was probably one of the coolest experiences of this whole trip, and absolutely fitting as our last LOTR experience in New Zealand.