Remember the beforetime when we had a home, jobs, and rocks were a primary staple of our life…that is rock and roll & rock climbing! We had TV and internet, running water, refrigeration, heat & A/C and pretty much 24-7 access to anything we could possibly need? OH yeah and downtime.
It has been a pretty trying couple of weeks for the crew of s/v Bosco. We have learned so much in the 4 weeks we've lived aboard but still have much to learn. However this blog isn't about any of that. This is about reminiscing.
Today was a pretty hot and muggy day. Jake spent the day working on the engine (fingers crossed that he fixed it!).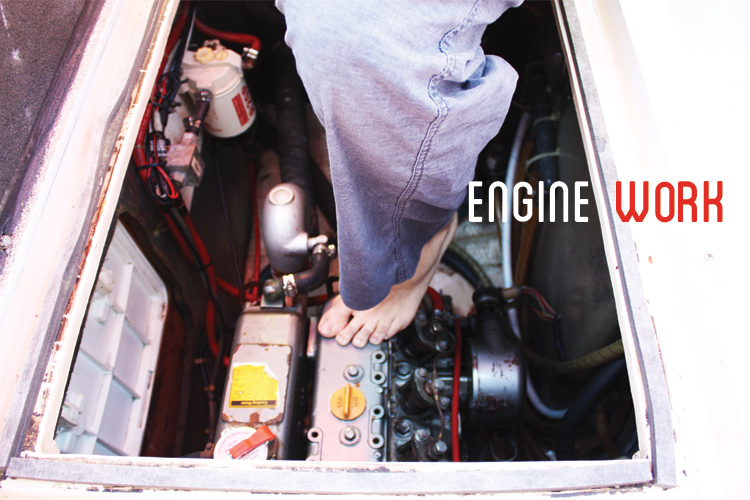 I spent the day in the "library" doing work-work. By this afternoon both of us were pretty much exhausted (mentally). We decided to take a little break and pull out the guitar that was collecting dust in our aft cabin (aka – garage).
I began strumming some chords as the muscle memory started to return to my fingers. I was hoping I would remember the songs of old that I used to know without a thought. But not quite. At least not at first.
Then we decided to break out some FB4K (Firebird 4000 Project) albums in an attempt to relearn songs that we toiled over so many years before; songs we thought we would never forget. But time has made fools of us.
Remember when we had a band?!? It felt like just yesterday.

As we sat listening to our songs, we'd take turns strumming bits and pieces, trying to follow along. Things started to come back. We listened to all 28 of our original tracks from the 7+ years we played as FB4K. Not all songs are gems, but we found the love of OUR music again that we haven't felt for over three years.
Then the last track on our album played; A song that I completely forgot existed. Its called "Run Run Run". I remembered how much we LOVED playing this song that we wrote in less than an hour. Then I listened to some of the lyrics…
"…We'll leave our friends we'll run away
and I'll let you lead the way
We'll get the cash from the IRA
We've worked and saved all these years
We'll never come back we'll sail away
We'll never come back we'll sail away…"
Holy crap that's exactly this. We wrote the song long before we decided to do this. It was an idea that we turned into a song that we turned into a reality! Kind of magical.
I would love to share that song with you all but I realized I don't have an MP3 version on this computer. 🙁
I believe it can be downloaded on iTunes OR heard on RDIO for free.
I did, however, manage to load an unreleased track from the 3rd FB4K album, Trinidad V2. If you are curious to hear us in our glory 😉

We only recorded two songs for our third album before life got in the way. We gave the band up to pursue this dream instead…the one we're living right now. And for the first time we felt a melding of our past life and present life that makes this feel like home.