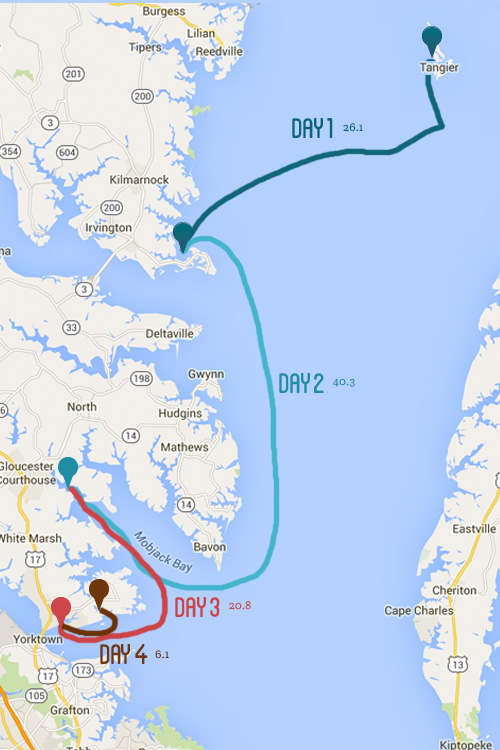 We were bolstered by Tangier and felt refreshed enough to make some big pushes southbound. Our weather would be good for almost a week straight! The only downfall is that there was a heat wave coming through, and temps between 103-108 were expected for the next three days. But, we've never had an opportunity like this, and really wanted to take advantage. The countdown to August is getting shorter and shorter and we have almost 200 miles to go (STILL).
We had no real sense of what we were planning to do for the next week. Normally we travel to a destination and stay for at least a day (or two) to recover. Then move on. But we've never done any back-to-back days of any great caliber. Nor did we expect to travel 4 days straight.
Day 1: Tangier to Little Bay (26.1 nm)
July 19,2015
We were raring to go. The day was predicted to be clear and sunny with steady south-west winds in the 10-15 knot range. Perfect for our general direction. We could sail on a close haul almost the ENTIRE way. And we only used the motor for 30 minutes today! We managed to sail 25 of the 26.1 miles.
Bosco holds her line really great, meaning we don't have to fuss with the wheel if the sails are trimmed properly. So we could relax and take breaks below. Jake would man the whole cockpit himself, and then I would. Its the first time we've felt comfortable enough to do this.
Sailing was beautiful too. AND it was the first time we spotted DOLPHINS. If you don't know me (Jill), I'm obsessed with dolphins (have been my entire life). I tried to get some pics of them, but they disappeared into the abyss before I could get anything decent. Jake managed to capture one on our phone (though its not great). Still it was so cool!!!!
Our anchorage was in this little bay (appropriately named) right behind a beach. It looked like a party with all the people, jet skis and power boaters. It was beautiful. Once we pulled in and dropped anchor, it was after 4PM. We were tired, starving and REALLY hot. It was over 102 in the boat and we figured we would cook dinner on our boat-grill (and maybe take a dip in the water). Jake made us steak, potatoes and squash. Holy crap it was so good – best meal since we've been cruising!
After the sun set, the boat was still ridiculously hot. Our A/C stopped working so we had to suffer through. We actually decided to sleep in the cockpit tonight because it was so hot in the boat. AND we also decided that we would make a big push to Glouchester the next day, because we really needed food and other boat provisions. Plus we have been dying to go to a movie, and Glouchester supposedly had a theater.
Day 2: Little Bay to Upper Ware River (40.8 nm)
July 20,2015
After a fitful night of sleep (due to extreme heat) we woke up at 445AM to prepare for a very long day ahead of us. Today we planned to make a big haul AND there was a storm predicted for the afternoon, around 4PM. So we wanted to make sure we were at our anchorage well beforehand. Thus we had to leave at sunrise.
The morning sailing was really nice. There were pretty good 10-knots of wind, allowing us to sail at a beam moving at an average of 4 knots. The waves were really calm too, so again, Jake and I would take turns manning the cockpit solo. I managed to get a nap in below AND read part of a book. Jake took time to clean up below deck and cook us snacks throughout the morning. We were running VERY low on food, so our snacks were down to a package of raisins, some stale saltines and some cheese that was almost passed its prime. Better than nothing!
As the morning rolled on, our wind completely died out. If we didn't feel the need to rush, we probably would have kept sailing close hauled, tacking every so often. But instead we kicked on the engine and motored.
Our intention was to motor until we turned up the Mobjack Bay towards our anchorage, but once we turned in, there was no wind. Seriously NOTHING. The water was like glass. It was really beautiful, but not exactly good for sailing. So we continued motoring the rest of the way, which was REALLY boring. Both of us can handle maybe 4 hours of motoring a day, but after that it kind of wares on you. The anchorage was REALLY far up the Bay (we had to backtrack almost 10 miles north) and it felt silly that we went up so far. But as we motored up the channel, we did spot about 20 dolphins so that made it TOTALLY worth it (For me)!
We dropped anchor at 3PM. We were so tired AND hot (today's temps 108). We both took turns jumping in the water to cool off, but even the water was hot. Jake mustered up enough energy to scrub down the hull from the dinghy but I was pretty useless. I tried to read but even that was too much effort. We also were disappointed to learn that this anchorage did not have access to dinghy dock or provisions.
The storm rolled in after 4 but it just barely missed us. Good thing we went up this river so far, otherwise we would have been right in the thick of it! Plus it cooled things off which felt great. That night we decided that we should keep moving south. We found an anchorage near a marina that boasted repair services, near town AND a theater.
Day 3: Upper Ware River to Sarah's Creek (20.8 nm)
July 21,2015
We let ourselves sleep a few extra hours this morning. I woke up around 6AM, to the sound of watermen. At first it was kind of annoying, but once I was awake, I figured it was good to help get a jump on the day.
I prepped the boat for departure, letting Jake sleep in. I woke Jake up to help me raise anchor, and then told him that I'd man the helm all morning and he could take his time relaxing below, making us breakfast, etc. It was really good because we both wanted to get to our next anchorage (and the promise of a food store and movie theater).
We spent the entire day motoring, but it was only 4 hours. Each of us took turns, 1 hour on, 1 hour off. It flew by and allowed us both to relax below deck. We are finally getting used to the idea of the home (below deck) being part of the sailing/travelling world. So we can in essence live normally and move at the same time. Really cool feeling!
We even pulled into our next anchorage by 11AM and dropped anchor in a nice and protected area, right behind a fancy marina. We didn't waste time making a big lunch and casually cleaning the boat, figuring out the plan for the day. We thought we may try to get our engine looked at (and maybe even the outboard as well) while we were here too.
Jake called the marina and got the name and number of the mechanic who may be able to help us. He was out for the day, so we made plans to go to town, get some movie-time and groceries. The ride to town was about 3 miles, not too bad on our bikes. But the road was really busy and there is no bike lane or shoulder, making it feel really sketchy. At least we made it without issue!
The theater had only 6 shows, one of them Jurrasic World, which we both really wanted to see. We were two hours early, but decided to hang out in the A/C. This theater had arcade games too! It was like a blast from the past. It was so much fun and the movie was great too. A few hours of bliss after all the hard labor was a real treat.
After the show we picked up a few things and made our way back to the boat. That night we had an amazing meal (potato crusted cod, mixed greens with sesame dressing) and passed out pretty early (before 9PM).
Day 4: Sarah's Creek to Perrin River (6.1 nm)
July 22 – 24,2015
We planned to stay at the anchorage near the marina to do a few more errands before making our way down to Portsmouth / Norfolk (and the beginning of the ICW). We were still waiting to hear about our engine, and figured we'd hang out at least one more day before moving.
The mechanic told us we would have to get a slip at the marina for him to look at our engine. But the cost of the slip was $72/day, which is obscene. He offered to let us come out to his home and his personal dock for FREE and he would check things out. So naturally we took him up on this offer! His home was only a few miles up the way from our anchorage. So after a leisurely morning, we tied things up and were on our way.
As we motored out of the channel, both Jake and I thought our engine sounded weird. We couldn't figure what it was, other than the tachometer acting wonky (which it had been for a few weeks). Good thing we were headed to the mechanic. After just 2 miles, though, the engine died.
Go figure. We assumed the problem was electrical, because we've had some issues with the starter and figured maybe the alternator was bad or something. But either way, we still had a few miles to go and were stuck in the York River. So we called Boat Tow US and within an hour they tied us off and motored us towards our destination.
The house was right outside of a fishery and marina, so it was easy enough to find the right channel. The dock, however, was TINY. But the tow boat managed to get us situated and we tied off at the end, where our giant boat looked kind of foolish. No worries though, because now we're here.
The mechanic, Ellis, came out to our boat that afternoon and got right to work on the issue. It was clear that this guy knows his SH#@. He knew exactly what our problem(s) were and how to fix them. The engine dying was kind of stupid (we accidentally lifted one of the compression arms when filling the oil). He also said he could work with our valve cover, instead of ordering a new one. He took the old one off, machined it flat, repainted it, found a thick and beefy gasket (not the crappy flimsy one we had) and put it back on within an hour. The engine started up and was purring like a kitten. Better than before I think. By this point it was almost 5PM, and said he would be back in the morning to look at the outboard and fix the tachometer. He told us to feel free to stay at his dock.
So we did! It was nice. We didn't have any power, but at least we didn't have to go anywhere. The next morning he came out and cleaned / recalibrated the tach, and told us that he could order a part for our outboard (though it wouldn't be there for another day). So we had another full day.
We decided to ride our bikes to the store to get more groceries (since we only got a few things the day before). The store was a bit further, now 6 miles one-way. It took us about 3 hours round-trip to do this, but we were stocked up. However we also totally sore and our butts were numb. I guess these bikes aren't meant to go such great distances with heavy loads.
All-in-all this has felt like a VERY productive week for the Jake and Jill clan. We managed to make a lot of progress both in miles covered and mental barriers. Its great to know that we can tough it out, pull through excruciatingly uncomfortable and exhausting days and still come out of it happy and unscathed. Though it makes me wonder how anyone does this that's older than we are. Maybe that's why people rarely ever actually go cruising?
Virginia has some of the nicest people. So outgoing, friendly, willing to help and genuinely kind. We had no idea that it would be like this OR as beautiful as it is. The water is bluer, more sea life (dolphins every day) yummy fresh seafood and tons of beautiful landscapes. Happy to be here.